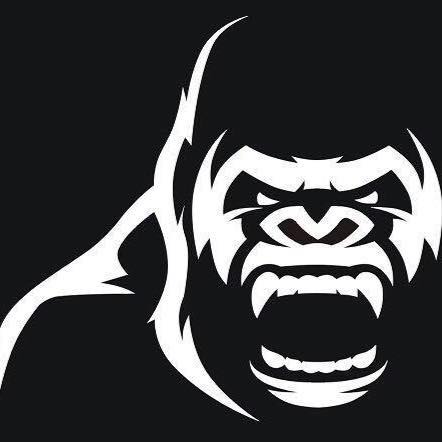 When it comes to forced induction, it's no secret that the LSA Supercharger has simply outperformed the competition when comparing it's size & capability. Simple modifications such as a boost pulley & cold air intake swap really get the LSA supercharger creating serious horsepower. Further upgrades such as CNC porting have also shown significantly large gains when paired with the correct camshaft combination proving to make more horsepower than some larger units.
Despite being very efficient & extremely capable at the correct boost levels the LSA supercharger is known to start to run out of efficiency on larger cubic inch engines due to cylinder mass. The little 1900 supercharger is forced to work harder to create the required boost to fill the larger bore as opposed to filling a smaller bore on the stock bore/stroke motor. This is known to cause excessive heat which affects it's ability to make & maintain hp. This means you are left with the option of making less power due to limitations on boost levels OR upgrading to a larger supercharger.
The trade off here is that a key benefit to the LSA supercharger has always been it's ability to make peak boost without excessive engine RPM due to it's design and rotor combination. When comparing larger superchargers to the LSA, most tend to forget that larger superchargers require more engine RPM to create peak boost putting more stress on internals.
Here is where the latest LSA supercharger design by Kong Performance is the true game changer we all needed.
Kong Performance along with Edelbrock have designed a supercharger combining the largest 2650 supercharger rotors from Eaton, larger diameter runners, upwards intercooler setup & larger snout inlet while incorporating them with the OEM LSA design unit.
This means that they were not only able to design a supercharger which has been tested & proven to over 1,000rwhp. But they were able to achieve this making more boost with less supercharger RPM at the same Engine RPM. (See comparison below)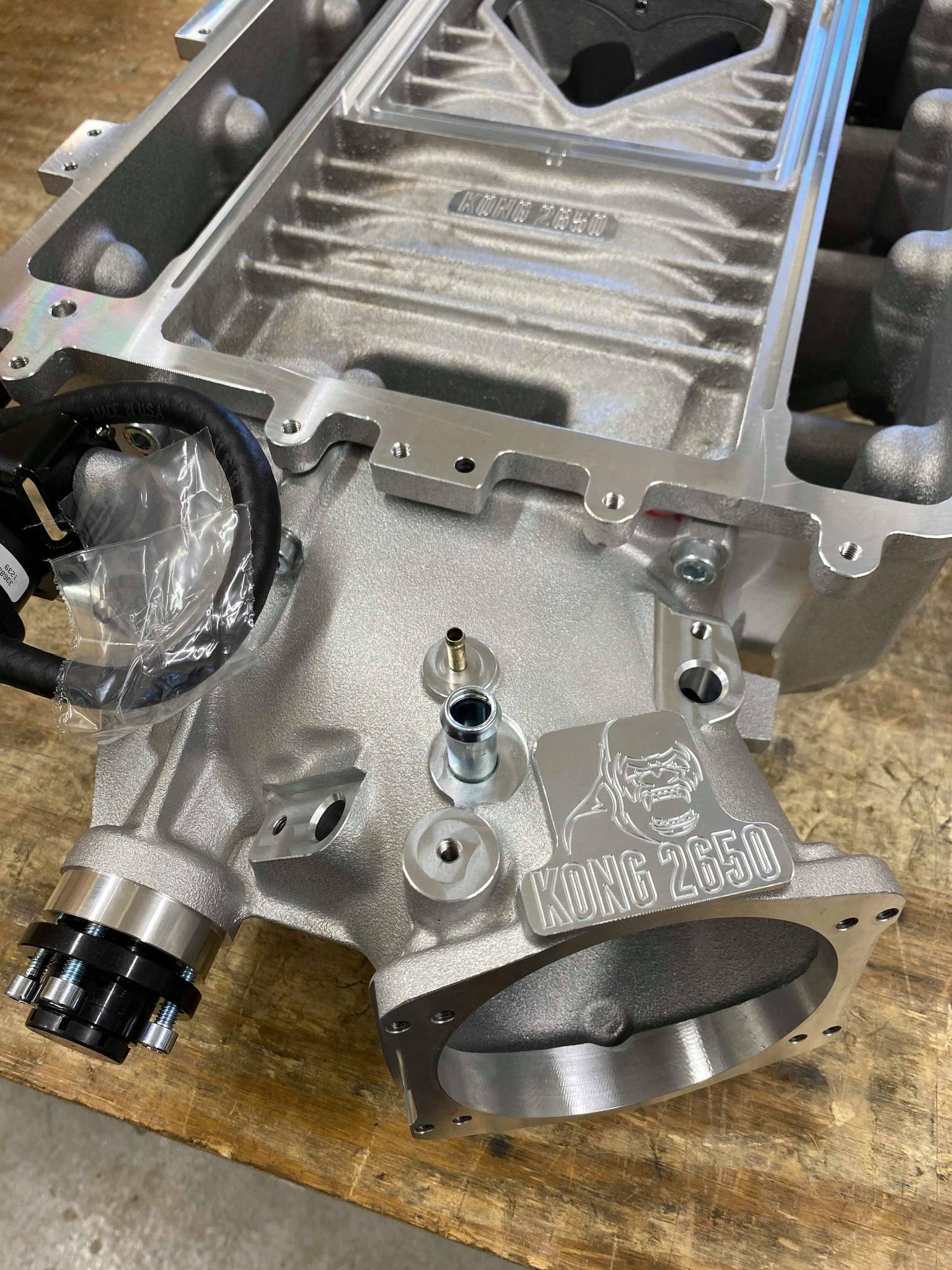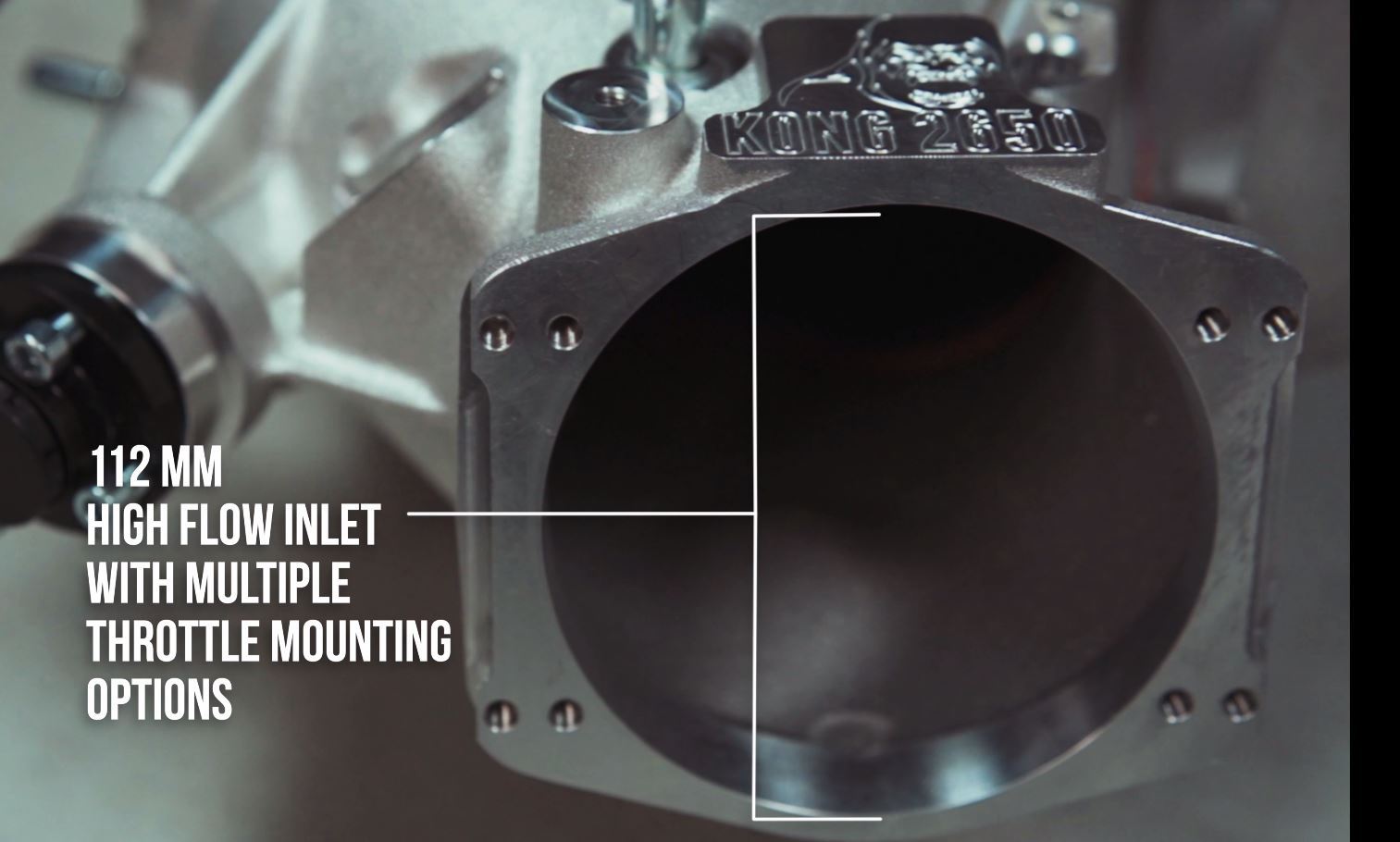 Initial testing was completed on a 860rwhp built 416ci LSA engine with a custom cam, ported heads & full house ported blower.
The car made 15.55psi boost which is achieved by combining a 9.17" inch bottom & 2.55" inch top pulley.
(38% Overdriven = 23,400 supercharger RPM @ 6,500 Engine RPM)
The vehicle was then upgraded with the Kong 2650 Supercharger with no engine changes, the combination was simply upgraded from the LSA 1900 to the Kong 2650 which was fitted with a 3.00" Inch top pulley.
The result was 1,003rwhp @ 21psi and a supercharger RPM reduction to 20,100 @ 6,500 Engine RPM.
The significant reduction in supercharger RPM means this supercharger is more efficient across the board with lower IAT's whilst making a gain of 143rwhp and a gain of 76ft-lbs of torque.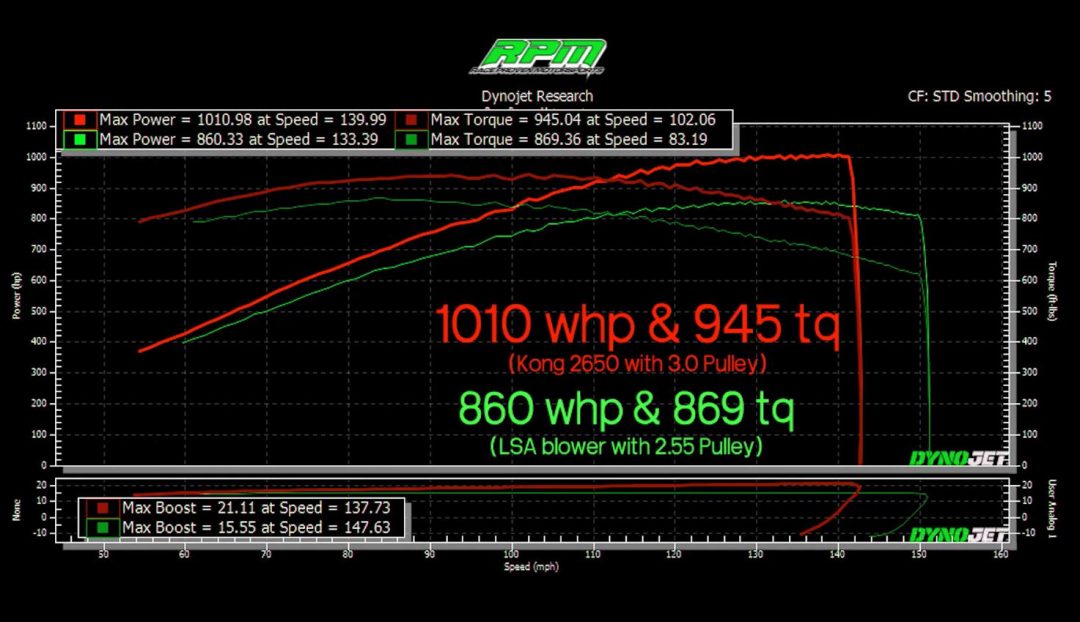 Obviously the comparison above is done on a max effort engine combination which made huge power with the OEM 1900. This means a comparison from a standard LSA Supercharger will show a drastic gain.
Another great benefit of this blower upgrade is the OEM appearance. Once fitted to your vehicle it looks identical to the OEM LSA as it features the same housing, uses your OEM Lid & accepts the LSA Engine Cover.
(see below)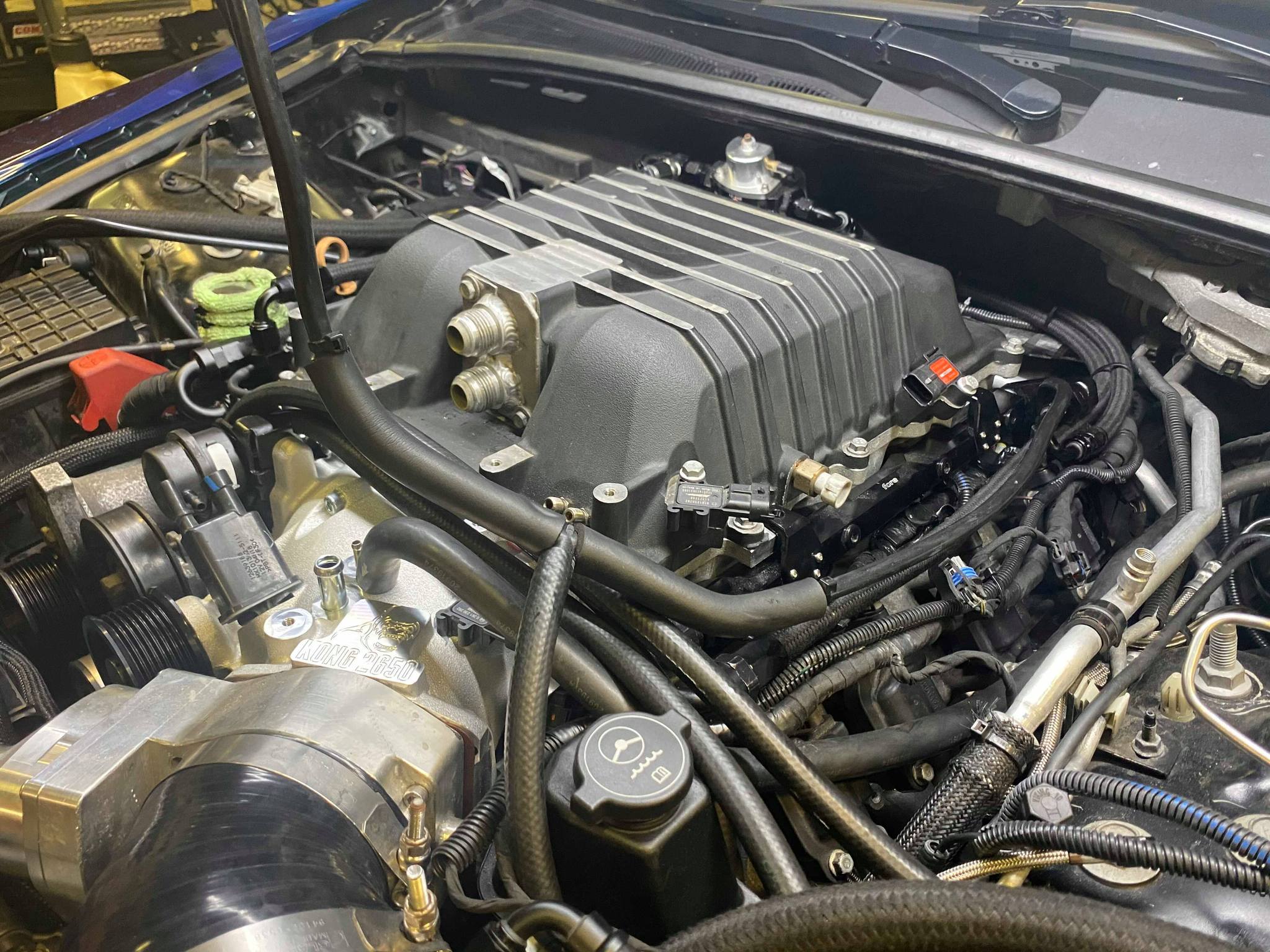 Also due to the design of the Supercharger unit it does not affect bonnet clearance on LSA vehicles.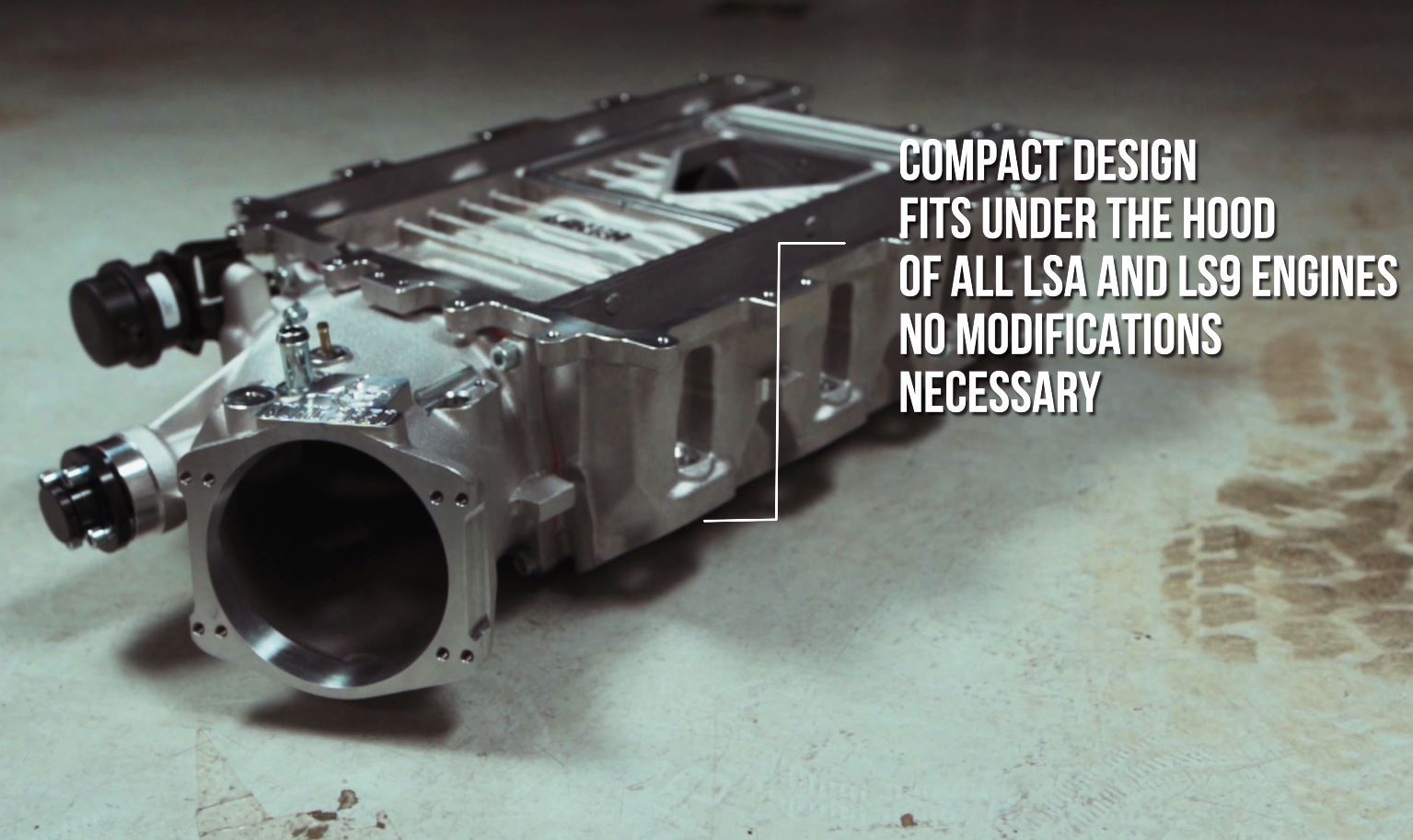 Check out the video below to see the back to back comparisons on the dyno.
Click Here to check out the range & order yours today.
Our pricing includes Free Shipping!
Finance Packages Available
LSX Performance Parts can assist with your new performance upgrades with our range of finance packages to suit your needs.
We have a panel of lenders who specialise in unsecured lending - No need for security of your home or vehicle to fund your new upgrades!
Let us arrange an approval for you today!
Want To Talk To Us About Our Kong Performance TVS2650 kits?
Sure! Give us a call on (03)8595 4343 OR Simply click Get In Touch & schedule a time that best suits you. We will have one of our sales consultants contact you at your convenience.
Alternatively, We are available right now for live chat!